Press release: Signing of a Memorandum of Cooperation between the University of Technology and the Cyprus Ports Authority
steam
A Memorandum of Cooperation was signed by the Cyprus University of Technology and the Cyprus Ports Authority (CPA) on 11 June 2020. The purpose of the memorandum is to provide the framework for further development of the existing cooperation between the University of Technology and the Cyprus Ports Authority (CPA). On behalf of the Cyprus University of Technology, the Rector, Professor Panagiotis Zafeiris, signed, while on behalf of the Ports Authority, the General Director, Mrs. Anthi Cleridou, signed.
The framework covers actions in areas of common interest, such as participation in research and development programs, the exchange of information and know-how, the provision of consulting services and the preparation of studies on issues related to the field of action of the Cyprus Ports Authority. Also, the two parties intend to implement joint cultural, scientific and educational events and to cooperate in the placement of students of the Technological University for internship purposes.
Within the framework of the existing cooperation protocol, TEPAK has proceeded with the provision of drones or UAVs (unmanned aerial vehicles) to the Cyprus Ports Authority which will be utilized by the VTS service for monitoring and environmental monitoring of the area around the port of Lemes. Relevant training of ALK personnel regarding the flight of drones was carried out in the port of Limassol on July 7, 2020 by Mr. Loris Dimitriadis of Aeroworx Skies (see attached photos). It should be noted that these drones / UAVs were provided by TEPAK within the STM Validation Research Program (2015-2018).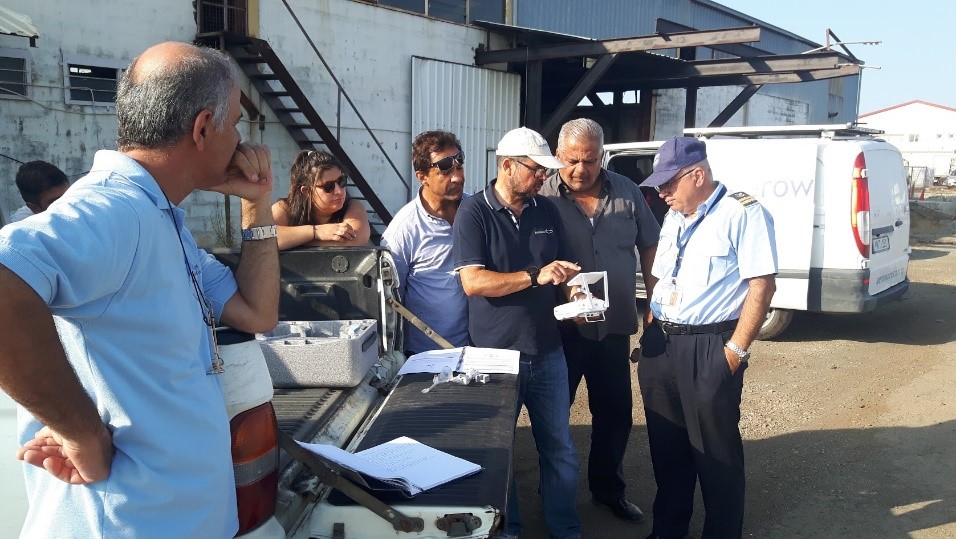 At the same time, the utilization of drones by ALK falls within the objectives of the STEAM Research Program (Sea Traffic Management in the Eastern Mediterranean) in which ALK is an official partner. STEAM is a three-year project that started in January 2019 with a budget of about one million euros. The overall objective of the STEAM project is to effectively manage maritime traffic in the Eastern Mediterranean, while ensuring safety and environmental sustainability.
For more information see https://steam.cut.ac.cy/ .
The Program is co-financed by the European Structural Funds and the Government of Cyprus through the Research Promotion Foundation (STEAM Project: INTEGRATED / 0916/0063).
Contact: michalis.michaelides@cut.ac.cy
Michalis Michaelides, Assistant Professor, Department of Electrical  Engineering, Computer Engineering and Informatics