Extend the Port Collaborative Decision Making (Port CDM) platform
The core Port CDM system (prototyped during the EU-funded STM Validation Project) enables real-time situation awareness to all participants involved in maritime activities in the ports of Cyprus for the purpose of increasing operational efficiency within and around the ports. The scope of this work extends from optimizing port call operations within a port to collaborative decision making across ports, and offering online services to interested parties. Port CDM will be enhanced with new connectors to other port-related systems, new web interfaces, and new services for port-to-port collaboration.
Establish the Limassol Shore Center (LSC)
LCS will act as a communication hub in the Eastern Mediterranean region and provide various services to ships in order to optimize sea traffic navigation in the region. Some of the envisioned services include route cross-check, flow management, enhanced monitoring, as well as search and rescue.  The LSC will also provide services designed to meet the unique needs and requirements that arise from short sea shipping, such as the real-time coordination of large inbound vessels with smaller outbound ones as well as the unloading, deconsolidation, and reloading of goods for transport to their final destinations.
Incorporate innovative technological solutions into maritime operations
New technological solutions will be selected for providing real-time information related to ship movements, the environment, and the tracking of cargo. Specifically, systems will be designed and developed for (i) collecting Automatic Identification System (AIS) data from the Eastern Mediterranean sea; (ii) collecting environmental monitoring data related to various oceanographic and meteorological parameters of interest; (iii) tracking cargo inside the port by interfacing with existing systems for extracting this information as well as investigating new technological solutions (i.e., RFID tags).
Provide advanced data analytics services to maritime stakeholders
Cleaning, integration, storage, and processing of data are the first steps towards implementing a variety of analytical techniques (such as statistical machine learning, text search, and signal processing) for extracting new meaningful insights and supporting decision-making activities. The envisioned services will perform data mining for discovering interesting patterns and knowledge from the data improving various Port CDM and Shore Center operations as well  as computing Key Performance Indexes (KPIs). In addition, business-oriented services will be developed to support organizational decision-making activities.
Organize Living Labs with all relevant maritime stakeholders
Living Labs bring together the expertise of all relevant maritime stakeholders for driving the various project activities and evaluating the final outcomes of the project. Living Labs encourage the interactive communication amongst stakeholders from various backgrounds in order to find solutions towards common needs. In a Living Lab, the aim is to accomplish the fruitful interaction amongst members of the quadruple helix (researchers, companies, public authorities, and civil societies), thus harmonizing the innovation process.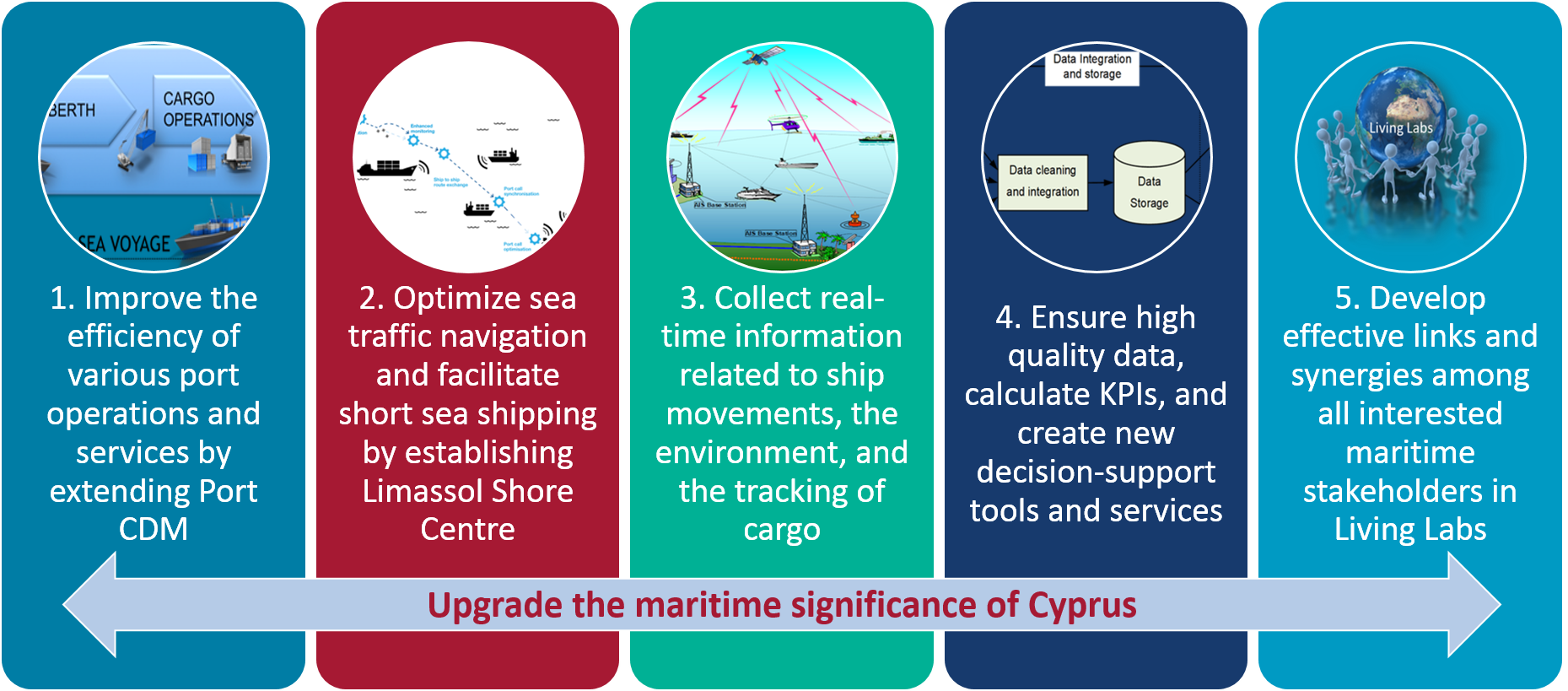 ---